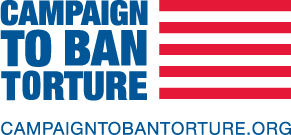 Thank you for your interest in the Campaign To Ban Torture. For more information on our ongoing efforts to build an anti-torture majority please visit:



President Obama Signs
Executive Order Ending Torture

On January 22, 2009 President Obama signed an Executive Order ending U.S. use of harsh interrogation techniques. The Order embraces the Declaration of Principles for a Presidential Executive Order on Prisoner Treatment, Torture and Cruelty proposed by the Campaign to Ban Torture and CVT's mission to end the use of torture worldwide.

To learn more about the declaration and to support CVT in ending torture, visit www.cvt.org





Endorsers of the Declaration of Principles




---
Former Department of State
---
Secretary Madeleine K. Albright
Ambassador Richard L. Armitage
Secretary Warren Christopher
Lorne Craner
Ambassador Peter W. Galbraith
Ambassador Marc Grossman
Ambassador Richard Holbrooke
Ambassador James Jones
Harold H. Koh
Dr. Joseph S. Nye, Jr.
Ambassador Thomas R. Pickering
Ambassador Felix Rohatyn
Secretary George P. Shultz
Ambassador Frank Wisner
John C. Whitehead

---
Former Department of Defense
---
Secretary Harold Brown
Dr. Ashton B. Carter
Secretary William Cohen
Rudy deLeon
Dr. John J. Hamre
Frank Kendall
William J. Lynn
Secretary William Perry
Ambassador William H. Taft, IV

---
Retired Military Flag Officers
---
Brigadier General Hugh Aitken
Brigadier General David M. Brahms
Brigadier General Stephen A. Cheney
Admiral Archie Clemins
Brigadier General James P. Cullen
Major General Paul D. Eaton
Lieutenant General Lawrence P. Farrell, Jr.
General Ronald R. Fogleman
Brigadier General Evelyn "Pat" Foote
Major General Eugene Fox
Lieutenant General Robert G. Gard, Jr.
Brigadier General Wilfred L. Goodson
Rear Admiral Donald J. Guter
General Joseph P. Hoar
Brigadier General John A. Hurley
Rear Admiral John D. Hutson
Brigadier General David Irvine
Admiral Greg G. Johnson
Brigadier General John H. Johns
General James L. Jones
General John P. Jumper
Lieutenant General Claudia J. Kennedy
General Paul J. Kern
General David M. Maddox
Colonel Peter Mansoor
General Merrill A. McPeak
Major General Melvyn S. Montano
Brigadier General Richard M. O'Meara
The late Lieutenant General William E. Odom
Lieutenant General Charles P. Otstott
General Joseph W. Ralston
Major General Thomas J. Romig
Brigadier General Maurice D. Roush
Brigadier General Murray Sagsveen
Vice Admiral Jack A. Shanahan
Lieutenant General Harry E. Soyster
Lieutenant General James M. Thompson
Colonel Theodore B. Voorhees
General Volney F. Warner
Colonel Lawrence Wilkerson
Brigadier General Stephen N. Xenakis

---
National Security Experts
---
Rand Beers
Samuel Berger
Dr. Zbigniew Brzezinski
Carl Ford
Senator John Glenn
Senator Gary Hart
Governor Thomas Kean
Steven Kleinman
Anthony Lake
Senator Sam Nunn
Jessica Tuchman Mathews
Jeffrey Smith

---
Counterterrorism Experts
---
Matthew Alexander
Vincent Cannistraro
Jack Cloonan
Joe Navarro
Professor Paul R. Pillar
Frank W. Snepp

---
Former CIA
---
William Daugherty
Burton Gerber
Ambassador Donald P. Gregg
Fred Hitz

---
Legal Experts
---

David Acheson
Senator J. Bennett Johnston
Harry McPherson
Senator George Mitchell
John Norton Moore
Alberto J. Mora
Senator Charles S. Robb
Theodore S. Sorensen
Robert Turner

---
World War II Interrogators
---
George L. Frenkel
Henry Kolm
Dr. George Mandel
Peter Weiss

---
Evangelical Leaders
---
Dr. Robert Andringa
The Rev. Dr. Paul Alexander
Dr. David Black
Joan Baumgartner Brown
Dr. Wilton Bunch
Dr. Stanley Burgess
The Rev. Tony Campolo
Dr. R. Judson Carlberg
The Rev. Richard Cizik
Shane Claiborne
Andy Crouch
Alan S. Cureton
Dr. Thomas Finger
Professor Timothy Floyd
Dr. Robert Michael Franklin
Dr. Richard L. Gathro
Professor Ivy George
Dr. Joel B. Green
Dr. Jeffrey Greenman
The Rev. Dr. Catherine Gregg
The Rev. Dr. David P. Gushee
Dr. Chuck Gutenson
Dr. Stanley Hauerwas
Gary Haugen
Stephen Hayner
The Rev. Dr. Roberta Hestenes
Dr. Dean R. Hirsch
The Rev. Dr. George Hunsinger
Dr. George R. Hunter III
The Rev. Dr. Joel C. Hunter
Dr. Cheryl Bridges Johns
The Rev. Dr. J. Ellsworth Kalas
Dr. Brad Kallenberg
Rev. Dr. Ken Brooker Langston
The Rev. Dr. Rick Love
Sammy Mah
Dr. Ronald Mahurin
The Rev. Brian McLaren
Albert J. Meyer
The Rev. Dr. Jesse Miranda
The Rev. Dr. Richard Mouw
David Neff
Dr. Mary Nelson
Dr. Michael D. Palmer
Ken Perez
Dr. John E. Phelan, Jr.
Dr. Kim Phipps
Dr. Christine Pohl
The Rev. Soong-Chan Rah
The Rev. Samuel Rodriguez
Prof. Melissa Rogers
The Rev. Gabriel Salguero
Dr. Andrew Saperstein
The Rev. Dr. Ronald Sider
Professor Glen Stassen
Ambassador Clyde D. Taylor
Dr. Larry Thomas
Dr. Daniel Vestal
Dr. Miroslav Volf
The Rev. Jim Wallis
Dr. Graham B. Walker, Jr.
The Rev. Tyler Wigg-Stevenson
Samuel C. Wolgemuth
Dr. Nicholas Wolterstorff
The Rev. Dr. Amos Yong

---
Prominent Leaders of Faith Groups
---
Rabbi Bradley Shavit Artson
Archbishop Vicken Aykazian
The Rt. Rev. Mark M. Beckwith
Archbishop Nicolae Condrea
Bishop Sally Dyck
Rabbi Dan Ehrenkrantz
Rabbi David Ellenson
Bishop Demetrios of Mokissos
Chancellor Arnold Eisen
Rabbi Steven Engel
Rev. Dr. Wesley Granberg-Michaelson
Rabbi Arthur Green
Rabbi Steve Gutow
Bishop Al Gwinn
Rev. Dr. Stan Hastey
Dr. Maher Hathout
Rev. Dr. Michael Kinnamon
Rev. Clifton Kirkpatrick
Rev. Michael Livingston
Dr. Ingrid Mattson
Cardinal Theodore E. McCarrick
Mary Ellen McNish
Rev. A. Roy Medley
Bishop Jane Allen Middleton
Stanley Noffsinger
Rev. Glen R. Palmberg
Rev. Daniel Pilarczyk
Rabbi Ben Romer
Dr. Anahat Kaur Sandhu
Rabbi David Saperstein
Jim Schrag
Patrice Schwermer
Rabbi Gerald Serotta
Rev. Dr. William Shaw
Dr. Muzammil Siddiqi
Rev. William G. Sinkford
Very Reverend Thomas H. Smolich, S.J.
Rabbi Toba Spitzer
Shakeel Syed
Dr. Sayyid M. Syeed
Rev. Dr. John H. Thomas
Rev. Dr. Sharon E. Watkins
Bishop Thomas G. Wenski
Tim W. Whitaker
Jim Winkler
Rabbi Eric Yoffe

---
Executive Directors of State Ecumenical Agencies
---
Scott D. Anderson
Rev. Jonathan Barton
Rev. Jan Olav Flaaten
Rev. Gary L. Harke
Rev. Jack Johnson
Rev. Dr. Nancy J. Kemper
Rev. Brenda Lynn Kneece
David Lamarre-Vincent
David Leslie
Marilyn P. Mecham
Rev. Russell L. Meyer
Warren Murphy
Rev. George Reed
Rev. Jill Job Saxby
Wade Schemmel
Rev. Dr. Rick Schlosser
Rev. Dr. Stephen J. Sidorak, Jr.
The Rev. Dennis D. Sparks

---
Civic Leaders
---
Daniel Curran, President, Univ. of Dayton
Helene D. Gayle, M.D., MPH
Linda W. Hart
Mitch Hart
Roderick M. Hills
Carla A. Hills
Richard Mezo
Charles A. Sanders, M.D.